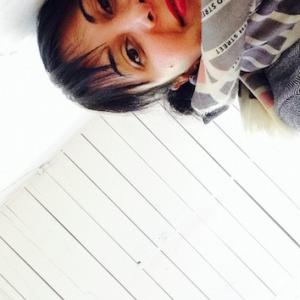 anahita azrahimi
anahita azrahimi is a visual artist and Executive Director of Toronto Outdoor Art Exhibition. She draws the inspiration for her intricate and whimsical collage paintings from her memory of surreal subaqueous landscapes, microscopic terrains and cut-outs from her chosen fashion magazine – the one and only Vogue. She weaves the elements of these realms into an evocative and abundant feast of color and texture.
Her paintings and video works have been exhibited in galleries, events and festivals in Toronto and are held in private collections across North America and Europe.
---
Why is it important for people to have art in their home or life?
to me every artist and artwork makes me look at the world from a different angle and point of view. Every time I connect to an original artwork I feel that my perspective broadens. There is something very special in owning a piece of someone else's creativity, energy and thought process.
Coffees per day and from where
2 cups- 1st at home with my ok espresso machine - 2nd usually at Propeller or Dark Horse - sucker for dense foams and good latte art!
Which piece of art you've created is your favourite, and why?
I love the direction of my new work. but I made a piece in 2011, called midnight stroll in the washing machine. It was wild, adventurous and carefree and the title summed it up. I guess I loved the title even more...
When did you start making art, and why?
Professionally 8 years ago, unprofessionally way before that. the reason as I said is cliche, but just can't leave without it...
What artists do you admire right now?
big name: Yayoi Kusama; emerging local: Kaley Flowers; old masters: can never get enough of Pieter Bruegel & Hendrick Avercamp
Favourite medium
Sheila Hicks's exhibition blew my mind and brought tears of joy to my eyes. I am admiring textile and fibre art these days.